Day 690
No Matter What I'm Doing and Your Support is Amazing, Thank You!
This was going to be a busy Friday, I just knew it...so I made sure to drop in bed relatively early last night. I also stuck to my plan of getting up by 4am, doing some non-weighted strength training exercises, and cooking an amazing breakfast. When the schedule is packed tight, that's when I must focus a little more on the fundamentals that have brought me this far. I cannot allow a busy schedule to negatively influence my good choices. Busy schedules happen--and really, this new relationship with food exist
no matter what I'm doing.
That's important to me.
This is who I am now
...and if I'm busy, the good choices are just naturally along for the ride.
I was fresh out of Joseph's 60 calorie pitas, but I did have a package of 100 calorie Joseph's Lavish flat breads. I bought these one night with a giant low-cal thin crust pizza in mind, and they're awesome that way! This morning however, I used this giant 100 calorie wonder as the wrap to my pizza breakfast burrito. I sauteed some mushrooms and green pepper with a zero calorie cooking spray, then added three 17 calorie egg whites---scrambling it up real good. I spread two tablespoons of the pizza sauce, covering the entire flat bread thin, emptied the egg white and veggie mixture in the middle, then topped it with a 50 calorie slice of mozzarella before putting it in the oven at 400 for about 10 to 12 minutes. I wrap it up burrito style
and viola,
a pizza breakfast burrito! See the picture below...very filling and
very
calorie friendly. The entire thing checks in at 225 calories...
Now that's what I call a good calorie value!
A bunch of people have recently asked me where they can find these 60 calorie pitas and 100 calorie lavish flats. Simply go to
www.josephsbakery.com
They have a search box where you can enter your location and it tells you exactly where their products are carried in your area. If you're outside the U.S.A., or there isn't a store that carries these amazing products near you, you can simply order them directly from their website. And by the way, this is a
completely
uncompensated endorsement. I really do love them this much! Oh, and yes--these products taste great and are super good for you!
I had a great morning show today. When I'm not feeling my best, the professional in me tries very hard to not let it show on the air, but when I feel incredible,
it absolutely shows
on the air---and it did this morning. So much so in fact, that the owner called me on the hot-line and asked if I were
"ok."
My reply:
"I've never felt better."
My workload kept me at the studio all day long. I had some fruit, ham, some granola (60 calories worth--not much really), and a string cheese. Later in the afternoon, I had nearly 300 calories worth of mac and cheese. I spread all of this food throughout what turned into an eleven hour studio day. I finally left shortly after 5pm. Eleven hours straight is an extremely rare occurrence. I made sure I had enough food and plenty of water, plus I treated myself to a diet 7UP.
My soda consumption is almost non-existent. I drink maybe one or two diet 7UPs a week. I never drink regular, but still---the diet sodas are horrible for me, more so than the regular, and that's according to a doctor friend of mine. But I still have one on occasion. At the grand opening of the Ranch Chiropractic Wellness Center, they gave away all-natural low calorie sodas. They were found in the health section of a local grocery store. I didn't realize such a thing existed,
the all-natural soda, not the health food section.
The all natural root beer was really good, I must admit.
As you may already know, I go back into the archives everyday and I read the post from exactly a year ago. Here's an excerpt from August 6th, 2009:
In completely breaking down my approach during this journey, I failed to properly express how much YOU mean to me and how important YOU are to my success. In the beginning I never imagined the kind of support that would develop. My family support has been incredible from the very beginning of course. The support I receive from people at work and in person everyday has been tremendously joyful. The biggest unexpected gift along this journey has been YOU---the reader of this blog. Your supportive comments along the way have been a true blessing. Even if you don't comment, I know you're reading, and that is so special to me. I never imagined that this blog would be any more to me than just an online journal to track my progress and and keep me accountable to my family and friends. I have my cousin Lynn to thank for providing me the reason to start this blogspot version.

The blogging friends I've made on here are incredible. Our journeys running parallel to each other is special to me. The circle of support that we all provide each other is just amazing really. That's why I changed the name of my "followers" to "Weight Loss Superheroes." Because we all have the power to use our experiences, journey, successes, and struggles to inspire and motivate others in a super special way. We're proving that obesity doesn't have to claim our lives any longer, we're reclaiming what's ours...we're taking back our life! So just know that the importance of your support along this journey has been critical to my success. Just as important as my "Motivating Thoughts," "Iron Clad Decisions," "Calorie Bank and Trust," "Steel Curtain Zone," and my "Unstoppable Sunshine." I look forward to many wonderful days ahead on this road and I can't help but smile when I realize that I can look over and see you along this same road. We're getting there my friend, isn't it a wonderful thing?
I spent some time with a buddy of mine tonight. I was the DD for him and his wife. I arrived back at the apartment a little later than I expected. I packed my bag for the trip to Kenz's dad's house and started to leave--when I realized,
I was too tired to make the trip tonight.
It had been a really long day...what I needed was rest, and I knew it.
Kenz
understood--and I promised I would be in tomorrow before noon. I honestly needed a night where I could just sleep as long as I wanted. This was it...I had worked hard for this, and by golly--I enjoyed every minute. No alarm set at all, just peaceful sleep until I couldn't sleep anymore. I was up around 9:30am. Sleeping in has completely changed for me. It's not noon time anymore, it's eight or nine,
maybe
nine thirty.
I've received some amazing e-mails recently. If I haven't given you a reply yet, please be patient--And never hesitate to drop a few words my way, please! My e-mail is seanboy105@hotmail.com Hmmm...it's not hyper-linking my e-mail. Or add me on facebook! Just search using my email address.
Thank you for reading! Goodnight and...
Good Choices,
Sean
Before it's wrapped!
After wrapping up this mammoth breakfast burrito---Only 225 calories...and incredibly tasty and fast!
With Courtney last year at a big concert festival
Courtney with Kevin, the lead singer of Candlebox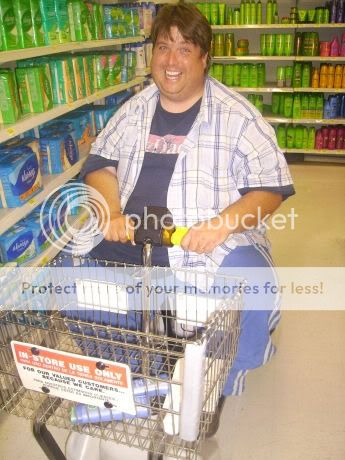 The one and only time I ever used the motorized cart at Wal-Mart. I had to do it, I was suffering from sciatica.
I wanted to use the cart several times
over the course of my lifetime of obesity, but I just never wanted to be
that guy
...unless I absolutely needed to use the thing. If it was just because I didn't feel like walking at over 500 pounds---I couldn't bring myself to that place...even though morbid obesity is often considered a disability, I could never accept that for me--I always wanted to be free instead of accepting.
OK--I officially love this picture of Kenz and Me