Day 617
It's All A Part of This Deeply Personal Transformation
I've stared at this blank screen for the last half hour, deep in thought, wondering how to put this in words. Today was tough. It had nothing to do with food and exercise, or cravings and temptation. It was an emotional end to a twenty-one year marriage. It was a quiet little signing ceremony with Irene, me, a lawyer and a judge. I've made wonderful strides over the last several months in keeping this kind of stuff out of this blog, but I can't tonight. I've been consumed with reflection all day long. I tried to just walk out of the judges chambers, hug Irene, get in my vehicle and go back to the studio---
but I didn't make it.
I pulled into a park and just sat there in thought. My mom called and asked how I was doing---and I just lost it. I needed her to call at that moment and she did, isn't that amazing? I swear, moms are psychic. I was slowly eating my lunch and watching the birds. This was it. The biggest motivator for me to seriously start along this weight loss road was the fear of my family falling apart. And it did anyway, today was D day.
But you know what?

We're still a family of four, the living arrangements may have changed, but we're still and always will be a family. And further...
Irene and I will
always
love one another and we'll
always
be supportive of each other. When we wrote
BFF
on all of those little high school notes, we meant it! She's an awesome person. She's beautiful, talented, smart, loving, and has done an amazing job raising two fantastic daughters with me. There is no animosity between us now---the blame game is long past, and the tenderness we shared in the hugs immediately after todays formalities really showed how far we've matured along this road of life.
If the preceding was a little too mushy, personal, and non-weight loss related for you, then you're probably new to this blog. This has always been a family journey and truly a daily diary of my travels from 505 pounds. I've dared to explore every facet along the way, knowing that the answers I seek might be found in the sum of everything that has made me who I am today. I knew that this time, this weight loss attempt---it had to be different from any other I'd ever tried, I had to dig deep and write it out if I was ever to understand my morbid obesity. I still don't understand it all, but what I've learned along the way gives me incredible confidence for a future free from the threats of this killer.
I did end up taking longer to get back to work today, with my detour in the park---but before that I was really in a hurry to get back to work. I ran into a convenience store to grab something for lunch and had a really hard time choosing something I could feel good about. I finally emerged with an orange, a banana, and a Cliff Bar. I'm normally not a "bar person," but these choices were probably the best 400 calorie lunch combination I was finding in there. The Cliff Bar was all natural---and really, it was amazingly good! When mom called, one of the things she asked was
"what are you eating?"
I told her a Cliff Bar and she was shocked I think. She told me she was having a bar too. Neither one of us use them exclusively to lose weight, you know that. Today it was convenient
and very wholesome.
I talked with Courtney tonight and she said she was being bombarded with temptation. There's a Starbucks inside the store where she works and they were clearing out some of the leftover treats. They offered her a bunch of incredibly delicious and loaded goodies and she accepted.
BUT---
she distributed them to some of her friends and didn't touch them at all, saying
"Dad--I only have 200 calories left in my budget today, I'll be alright."
Yes she will. Absolutely, she's got this under control
in a very solid way.
Maybe we'll split a rice krispy treat tomorrow.
The girls were both spending the evening and night with their mom. It gave me some time to sit in this quiet apartment and meditate about everything. We have some wonderful times ahead, and when I think about how far we've come---despite the ups and downs of life, I can't help but smile. We're extremely fortunate, very blessed, and incredibly lucky. It was the positive thought I needed to push myself out the door and onto the bike.
The plan was to ride to the trail and do a 5K, but I didn't. I just enjoyed the ride. Somedays are just emotionally exhausting, and this was one. Call it an excuse, I prefer
"circumstance."
This was more than I'd normally ask of myself on a day like today. The ride made me feel good, the air, and the movement
was needed.
I enjoyed a grilled chicken, cheese, and veggie omelet this evening--it was big and heavy, checking in at 400 calories. I sliced a green apple and spread a teaspoon of peanut butter on the slices for a nice indulgent sweet taste.
How daring is that?
Nope, they never hid the jar, and I haven't had a meltdown with the peanut butter since I made that semi-serious request. I was in control and feeling good. There's a lot to feel good about around here.
Thanks for reading. Goodnight and...
Good Choices,
Sean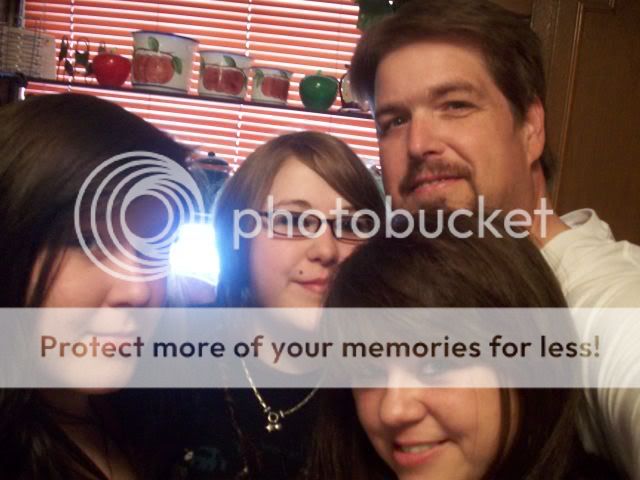 Love this pic. We'll always be a fabulous foursome!
Easily my favorite photo of the two of us. This was snapped on a triumphant day last fall---remember our incredible trip to the amusement park? We rode rollercoasters together---and fit perfectly on anything and everything that park had to offer. It was a dream realized that day!