Day 665
The Most Water In One Day and The Great Escape--Revisited
Morning non-weighted strength exercises started my day at 4:30am, followed by coffee, and some scrambled eggs, and uh…
more coffee.
It was mid-morning and not a single ounce of straight, pure, refreshing, unadulterated water had been consumed.
Seriously Sean? Remember---your name is attached to this challenge---wow, come on!
I spoke with Kenz around the same time I was giving myself this little pep talk---and she encouraged me, she's great like that. I downed the first bottle quickly; the second was spread over a few hours, and the third was finished by the time I finished with spinning class. I consumed an additional 15 ounces by the end of the evening, after play rehearsal---and so---
yeah, I kicked this water challenge first day in the rear with 75 ounces of straight water.
That is easily the most pure water I've consumed in one single day,
this entire journey
---and I'm not proud to say that, I'm just saying…
it's true.
I can't find my fancy water bottle anywhere. Maybe a daughter of mine is benefiting from that nice bottle, not sure---I hope so, because I'm not. I've been using the same plastic bottle—refilling over and over. I'll be getting another dedicated water bottle soon! Until then, I'll recycle this Deja Blue bottle---at least until I misplace the lid. I always seem to lose the lid! I was so impressed with mom---I picked her up late tonight for a little three day Ponca City getaway, and she was carrying a beautiful eco-friendly water bottle. Mom is rockin' this water challenge! I'm so happy for her!! And here's a
'like mother-like son'
example: Mom said,
"I did it, I did the 64 ounces today—and it's the most pure water I've consumed in one day, ever."
Me too mom,
me too!

My broadcast day started at 6am in the parking lot of Ponca City Medical Center. We were live on location for the
"Lose To Win"
final weigh-in. I love being a part of this program, I do---the people make it so wonderful. Lisa Love, a regular reader and commenter on these writings, popped in for her final weigh-in—and it was so cool to see her and have a picture snapped.
Lisa!!
Congratulations on your success and it was awesome that you could be there during our broadcast. It was just wonderful!
One after another, all morning—people were streaming in, weighing—and going about their business with a spring in their step and a smile on their face. One team weighed in together, and
wow---
I'm not allowed to share their amazing progress, at least not yet---but everyone on the team absolutely gave it everything---and the results were phenomenal. The award ceremony will be the 22nd in the historic Poncan Theatre. The hospital has asked me once again to put on a tuxedo and MC this big event.
I'm absolutely honored!
I made it home this afternoon with a plan. I would nap for a little bit, then hit the 5:30 spinning class at the YMCA, followed by a fast trip home---shower and dress---and straight to play rehearsal at 7pm. It was tight and very hectic, but I'm proud to say---
it's done!


Spinning is something I seriously look forward to doing. The once dreaded cycling with an instructor shouting gears and sprints is now a complete pleasure. The seat doesn't even hurt anymore, it just took me getting comfortable—that's all. I drew bike 11.
Hmmm…it's not 12, but no complaints here---
11 worked just fine. I was just happy to be back in a spinning class!
Play rehearsal was good, real good---and my food was excellent today. And of course, I totally conquered day 1 of the PEWC!
I traveled back into the archives today, a little further than I normally go---all the way to February 2009---where I found this excerpt about the prison we're escaping. From February 20th, 2009---Day 159
"The Great Escape:"For too many years I felt imprisoned by my obesity. I guess I always realized that there was a way to escape, but the escape plan seemed too unlikely. Maybe impossible is the word. Maybe not impossible, I mean, really I knew it was possible, but escaping was just something I dreamed about and talked about when no one was looking or listening. Like a prisoner behind bars, I just accepted that there were things I couldn't do as a 500-pound man, things I probably never would do, or so I thought. I tried to escape several times, but I allowed my emotions, my fears, and my habits to drag me back like guard dogs at the gate. And just as an escapee gets extra time, I'd get extra pounds after every unsuccessful attempt.

Escaping from the prison of obesity forever isn't something that can be done without careful planning, understanding, and opening your mind to learn. Writing about my feelings and experiences everyday and trying to grasp a thorough understanding of what hasn't worked and why, and what can work and why, is like studying the blue prints and guard assignments of the prison. As I go from 505 pounds to a normal healthy weight, I'm breaking down every obstacle that stands in the way. What's amazing is, some of those obstacles, the psychological hang-ups--have lost their power over me like a guard giving a prisoner a wink and looking the other way.

And when I tell people "you can do this too," it's like we're a group of prisoners planning our great escape. The teamwork and accountability to each other is a key element in seeing daylight here. Unfortunately, not everyone will make it out this time. Some will get caught by emotions, stress, and a deep seeded belief that escaping is nearly impossible. But for those of us who do, our letters and stories of hope from the outside can serve to inspire the imprisoned and help them understand the blueprints and guard assignments a little better for future attempts.

I've been the one caught by the guards so many times. And when I would settle back in my cell, I'd just accept it for a little while, forgetting about the freedom others speak of, not wanting to hear about what was possible...just focusing on what I perceived as nearly impossible. I was waiting for the right time to make my run. Then one day I realized that I had to escape now or else die too young within those stone walls. I didn't have time to wait for "the right time" to magically happen. My time had to be now regardless of the emotional and psychological hurdles that stood in the way. I'm navigating this escape plan with guidance from those that have gone before me. I'm always studying past escape attempts and analyzing where and why they failed. I can see daylight from here my friend, and it looks so good it makes me want to cry tears of joy. Let's go for it!

Cathy Cole—the director of the "Lose To Win" program at the hospital, called me earlier and told me of several who didn't make the final weigh-in. My heart breaks for them—
especially one in particular.
My hope and prayer is that they simply couldn't show up because of work or vacation---and that they're doing fantastic. But if they are struggling---if they're slumping down in their cell---
still imprisoned
---I want them to know:
I've been there---and you too can escape.
I'm here for you my friend. Send me an e-mail. People in this weight loss blogging world really do care---it's a fantastic—supportive bunch!
Mom is staying a few days at my place! I'm so excited to have her here. I'll take her with me to play rehearsal tomorrow night and we'll also workout together and we'll meet our PE WC goals together!
Thank you for reading! Goodnight and…
Good Choices,
Sean
Pictured with Lisa Love, right after her final weigh-in for the "Lose To Win" Challenge! Lookin' Good Lisa! You can do this---and you're proving it! I still have a hard time looking at full body shots of me---But really---that's crazy of me, because it's light years from this...
Full 500 pound-plus body before picture…At the OAB Awards with an award-winning colleague!
An unusual lunch really…but delicious---enjoyed at the studio today while I worked.
Showing the H2O who's boss! PE WC---Repeat after me---I need to…uh,
use the restroom now.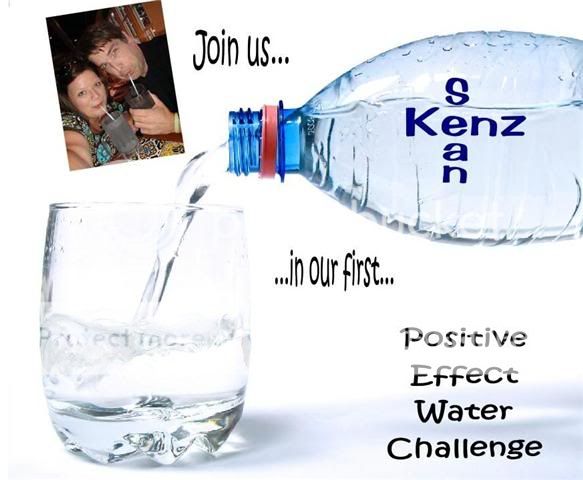 You're welcome to join late…really, I mean---come on, we would love to have you participate! If you're in already---Thank you! Kenz and I would love to hear how you're doing!!