February 20th, 2015 Worth The Exploration
The chills yesterday turned out to be somewhat of a precursor to not feeling well today. The chills weren't necessarily because of the cold outside
(I mean really--it's not that cold compared to other parts of the country and world).
I was having a hard time getting warm even in a well heated building. I woke up this morning feeling sick,
but not feverish,
so I sucked it up and made my way to the studio for my radio show.
I did take a partial sick day,
an extended split shift,
actually. I made my way home shortly after my show and fell back into bed for some more rest. My neck was especially tense for some reason. I could barely turn it.
Maybe I slept on it wrong,
I don't know. I do know there seemed to be a connection between the pain in the neck and the general nausea I felt. I returned to the studio mid-afternoon to complete some work stuff and prepare for my emcee duties at a big awards presentation event for our city's Main Street downtown revitalization program.
I planned to make dinner out of whatever was being served at this event. I asked a couple of people ahead of time if they knew what the menu included and they didn't. It didn't bother me, really. I was prepared to navigate the choices regardless of what I found available. I knew there would be fruits and veggies--and of course, cheese!
Oh boy--how I love cheese!
The spread of food was incredible. Upon arriving early, before the pre-awards mixer, I made my way into the serving room and did a once over. The customary fruit and veggie trays, of course, were prominently displayed. The entree selection included mini sandwiches of all kinds and the most amazing looking prime rib. I'm not a fan of the prime rib calorie value--and I didn't want the bread of the sandwiches, so I opted for a good plan B.
I decided on a 'holdover' until I could enjoy dinner later, after the event. I grabbed some fruit and veggies--and some cheese, made my way over to the podium while everyone else mingled--and without anyone even noticing what I was doing, I took my digital food scale from my man bag and quickly weighed the cheese and fruit.
Yes, I took the scale with me!
I knew there would be giant trays of cheese--and I wanted the added certainty of knowing precisely how much I was consuming. In all honesty, I have a slight trust issue when it comes to me and block type cheese--or in this case, cubed chunks. At home and work, I enjoy pre-sliced and calorie counted portions. In a setting like this, tonight, with the cheese cubes--it was better to take along some structure. The digital food scale gave me the certainty I wanted and needed.
Could I have eye balled it?
Sure--and I have before. But if it isn't a big deal
(and it wasn't),
then why not?
It was a way for me to give myself a firm boundary. And when it comes to me and cheese cubes,
boundaries are a really good thing.
I took a rest day yesterday. And once again today, not feeling well and as busy as my afternoon and evening turned out to be, I took another.
But wait!!
Despite my mid-morning nap, I was very active today. A lot of walking, stair climbing and table carrying later-- and Fitbit awarded me a 332 calorie burn.
I'll claim every one of those activity calories burned!
And, I'll make a return trip to the YMCA tomorrow!
I was approached by a gentleman tonight who was unaware of my relapse and regain period along this road--and he complimented me on my ability to
"keep the weight off after all these years."
I didn't offer any perspective to the contrary, I simply thanked him for the compliment then added something to the effect of,
it's a daily intentional practice, for sure.
You and I know what happened, but sometimes--depending on the circumstance, I opt to not explain--instead, deciding to just graciously accept the compliment and move forward.
This isn't the first person to mistake my appearance for long term weight maintenance success. I've explained what happened more than a few times and I always add:
"I really appreciate the relapse and regain period for giving me some needed perspective, to teach me things I needed to learn and re-learn--to show me what I must always appreciate and to prove to me personal truths I needed to fully understand for the road ahead."
When I sit and ponder the many benefits of this journey, near the top of the list, just below the health benefits, is the confidence issue. I walked into the event tonight with complete confidence. I wasn't self-conscious. I wasn't worried if my outfit fit properly. I wasn't compelled to be self-deprecating because of my size--in order to satisfy some mental issue within me. Because the truth is, I believe I was a very likable guy at 500 pounds. The self-deprecating humor of old was a defense mechanism against imaginary criticism I might receive from others--when in reality, I was truly my biggest judge and critic all along.
The self-deprecating stuff wasn't necessary,
ever.
I was a good person, worthy of acceptance and love from others long before I lost the first pound. This road has brought many lessons my way about extending love and acceptance to myself.
The real issue wasn't what I needed from others, it has always been what I needed from me, to me.
That's a deep and powerful introspective thing to consider,
but it's worth the exploration.
There was an opportunity for a few pictures tonight.
At the podium ready to emcee!
Meeting for the first time and visiting with Jeremy McConnell before the awards ceremony. Jeremy is the husband of Chelsea McConnell, the Ponca City Mainstreet Program Director.
The serious
'I'm not looking at the camera--I'm looking at the activities over there,'
picture.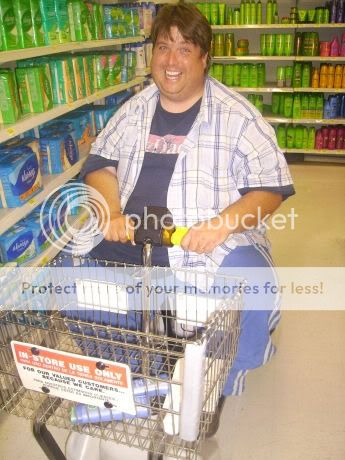 It wasn't too long ago,
things were very different.
I was in a lot of pain in this photo. I couldn't walk upright that night. I don't know how much I weighed here--but it's safe to say it was in excess of 500 pounds. My daughter, Amber, snapped the picture, illustrating how I could smile convincingly,
even in pain and feeling miserable.
My Tweets Today:
It's Friday! Good morning! Sugar free hazelnut creamer. 30 cal X 2= 60 cal. pic.twitter.com/KVzRLasLgQ
— Sean Anderson (@SeanAAnderson) February 20, 2015
Two cheese omelet. 3 whole eggs, 1 slice each: Mozzarella & Pepper Jack, Cara Cara orange. 410 cal. pic.twitter.com/yNiBcoert6
— Sean Anderson (@SeanAAnderson) February 20, 2015
Fat free/sugar free Bean and mozzarella lunch tostadas with light sour cream and salsa. 325 cal. pic.twitter.com/8BnzgM1s2A
— Sean Anderson (@SeanAAnderson) February 20, 2015
Medium banana. 105 cal. pic.twitter.com/P7LLuz5diu
— Sean Anderson (@SeanAAnderson) February 20, 2015
2 cups. #wateraccountability pic.twitter.com/pGzRPR0ehX
— Sean Anderson (@SeanAAnderson) February 20, 2015
2 cups. #watertracking pic.twitter.com/z6gqwILw26
— Sean Anderson (@SeanAAnderson) February 20, 2015
Emcee duty. Holdover until dinner: cheddar (1.05oz) swiss (.80oz) grapes, carrots, pineapple, raw red pepper. 271 cal pic.twitter.com/tAEjZqiapI
— Sean Anderson (@SeanAAnderson) February 21, 2015
1 cup with ice. #watertracking #wateraccountability pic.twitter.com/5DRCNwSA61
— Sean Anderson (@SeanAAnderson) February 21, 2015
Instead of a new water tweet with each refill, I'm going to guesstimate at least another after this. 2 cups. :) pic.twitter.com/BkmbETooGF
— Sean Anderson (@SeanAAnderson) February 21, 2015
Apples and pears. I Need my apples! #lightgroceryrun pic.twitter.com/NTi7u1QTHW
— Sean Anderson (@SeanAAnderson) February 21, 2015
2 cups with dinner. #wateraccountability pic.twitter.com/1SvaK1cr2G
— Sean Anderson (@SeanAAnderson) February 21, 2015
Two crispy chicken (5oz) fajita tacos with zucchini, lettuce, salsa and light sour cream (30g). 323 cal. pic.twitter.com/zO1NsDkMu1
— Sean Anderson (@SeanAAnderson) February 21, 2015
After dinner cup of coffee. Sugar free hazelnut creamer. 30 cal. pic.twitter.com/tMilZFBodA
— Sean Anderson (@SeanAAnderson) February 21, 2015
Trying a Red Anjou pear. Plus a golden delicious apple! Nice fruit plate while writing! #lastfoodofday 177 cal. pic.twitter.com/Y7lHYU9luR
— Sean Anderson (@SeanAAnderson) February 21, 2015
One calorie over my 1,700 budget! :) Close enough for me! pic.twitter.com/LXjJD0hU9Z
— Sean Anderson (@SeanAAnderson) February 21, 2015
Thank you for reading and your continued support,
Strength,
Sean