Day 391
Family, Friends, and Past The Point of No Return
I consumed little calories today before the performance. I still had enough calories, I was just a little more conservative before the show, because I knew that we were having a post-show cast and crew pizza party. I've heard this little pizza place in Tonkawa is incredible. I had no idea just how good, but more on that later.
I had a bunch of family attend the performance, it was so good to see everyone. Kristen and Rick, Uncle Bob, Aunt JoAnn, Brittany, Garret, Lynn, Larry, Aunt Maxine, and others---they all enjoyed the play! My mom, grandma, Aunt Kelli, Uncle Keith, Aunt Jean from Michigan, and many others are coming next Friday, I can't wait! I really wish my Dad could be there, but I certainly understand, Alabama is a really long drive!
Many theatre people have attended so far, and all have left impressed with the performance. Tonight, several members of the Jewel Box Theatre in Oklahoma City were in attendance. I was hoping to meet another "Hank," but he wasn't able to attend. The little boy who played "Henny" in the Jewel Box production was there, so that was very cool!
I was so happy to also see Sara Steele in attendance! I met Sara during the "Lose To Win" weight loss seminar program. She's a regular reader of this blog and has become a big supporter and friend. She left a wonderful comment on last night's blog after the show. Here's what she said:
Sean, I just got home from the play a while ago. You were amazing! I never expected it to be so good. I hoped, but you just never know with community theater how things will go. Your part was such an emotional one, and it had to be so hard to act "mean!" And I know how draining the emotional scene at the end was.(I played M'Lynn in Steel Magnolias...same deal.) I could not tell who was feeling ill! What a troupe! And that little guy....wow, I could go on. One of my highlights, though, was coming in at the last minute, and sitting down right behind Irene! I was so glad we finally got to meet! Dinner is still on! Sorry Sam couldn't go. He was feeling achey yesterday, so I left him home watching football. Anyway, just wanted all your followers to know you were amazing. And btw, I never saw one TUG! Tucking was great, and Chris was right. So in character! Hope you don't mark "acting" off your "bucket list." You need to do more of this some day!
Thank you Sara, it was a wonderful thing to see you there. I wish Sam could have made it, but I understand. This sickness stuff is going around. Issac is such a good actor, that little boy was actually throwing up back stage between scenes. He said he felt better afterward, but immediately after the show—Jose took him away so he could rest and medicate. Listen Sara, we need to seriously plan that dinner out with Sam and Irene real soon! Don't you dare move off to Texas before we do that, you hear? You don't want to bring out the "Hank" in me! :)
Rachel and Neil attended last night and they were completely blown away by the emotion of it all. Stephanie Williams, the producer, invited the two of them to join some of the cast and crew at our after show dinner, and all was well! (The official cast party has been postponed because of all the illness in our company.) Rachel and Neil were completely drawn into the story. Neil even accidentally cursed quietly after one scene in particular. Thank you Neil, that was a compliment, very appreciated.
We were all in agreement that the pizza place, Gottigos, was exceptional. Oh my, let me tell you something. If you've read the archives, then you know how I feel about Hideaway Pizza in Stillwater. This place was on that level. It was amazing. And I had to honestly count each slice as 350, at least 350...they were that good! I had a couple, then I sampled the apple cinnamon desert pizza. 850 calories is a bunch to spend in one sitting, but I had 1,000 remaining---so I was alright. I don't necessarily like violating my 500 calorie per meal rule, but occasionally circumstances call for some mild leniency. Still within my calorie budget for the day, so no worries. Seriously, no problem at all. I joked with Chris, the Director, about this pizza place being the end of my journey and blog. I would post just one word, Day 391 "Gottigos," and Chris expressed genuine concern at my joke, to which I assured him that wasn't possible.
I'm way past that now, way, way past the point of no return.
It feels so good and right to be at this place along the road out.
Thank you so much to "Body By Pizza" for posting the actual calorie counts of the drinks I enjoyed last night in her blog comment. I counted each as 200 calories. She searched it out and discovered that each was only 119 calories! I actually left some calories on the table yesterday! Thank you so much for that information "Body By Pizza!"
I've included some official play photos here. I don't like them all. Being on stage in a simple off-white tee shirt isn't very flattering for me at this point. But you know what? It's a 2X, and that's down from a 6X 391 days ago at 505 pounds. I have to post even the unflattering shots, because, well, just because---I know where I am, I know that there's work to be done to get the kind of body I really want. And you can bet the farm
I'll get it. I'll earn it. I'll work hard for it.
Keep reading everyday and you'll see. This transformation is far from over. It just keeps getting better and better. Thank you again for reading. Goodnight and...
Good Choices,
Sean
Doris and Hank
Doris, Gramps, Henny, Hank, and Miss Logan
Doris, Henny, Hank, and Miss Logan
Doris, Hank, Henny, and Gramps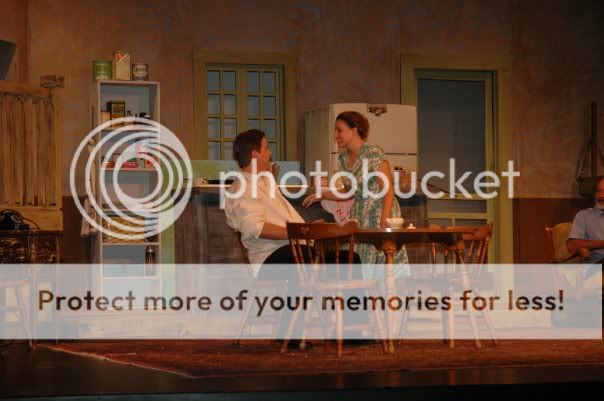 Doris and Hank
Doris handing Hank a cup of coffee. "Where's my shirt woman?"
Chris Williams, the Director, is in red holding his "magic stick." He attached himself to this stick early on during this production. Some of his best direction has come while clutching this stick. The power of the stick has become a magical legend---giving us all super performing abilities for each show. I bet that stick is with him for the next 50 years of his directing career. This photo isn't everyone associated and working on the show. I wish it was. Everyone contributes to the success of this show. It really is magical.