Day 483
This Is Still A Family Journey and An Accurate Body Fat Measurement
This entire journey, as imperfect as it's been, has still been magical. Irene started losing weight ahead of the rest of us, and then one by one we joined into a family weight losing machine. We've lost over 500 pounds as a family and it hasn't been without struggle. Irene's 140, my 231, Courtney's 80, and Amber's over 60 has been remarkable...but lately, our progress as a family unit has changed dramatically. In fact, over the last several months our momentum together has slowed to a painful crawl. I can't speak for Irene, but I know that Courtney and Amber have struggled tremendously. I'm here for them every step of the way, but they understand and appreciate that I'm not overbearing. I can't do it for them as much as I'd like. They understand that they have the power to continue what they've started and they have the comfort of knowing that I'm here for them and so is their mom, 24/7.
Courtney talked to me today about working out with me and getting back to the basics that has brought her so far already. That thrills me. And then Amber calls tonight and gave me another wonderful gift. She's tired of struggling and is choosing to change it all around! Amber even updated her blog with an exciting and heartfelt post. I knew that the time would come and she would be ready once again to commit to her transformation. I've never doubted their success and I've never tried to force these choices upon them. I've known when they're struggling, I can see it in the choices made and the attitudes displayed. But I remained quiet for good reason. I've been where they are. And I know that well intended persuasion only works if the recipient is ready to listen and take control over their choices and direction. It's just awesome to me that both my daughters are choosing to resume the progress they worked so hard to achieve---and at the same time. I invite you to read my daughter Amber's blog and if you have time, leave her some encouraging words of support. I'm so thrilled that she's so thrilled. You can find her blog by clicking this link:
www.amberisdroppingit.blogspot.com
I started this Sunday by preparing Mom and me a super low calorie egg white omelet. Mom couldn't believe the low calorie count. I flavored it up big time by cooking the mushrooms and onions ahead of the egg whites. Then I used half the mozzarella I normally do for a big four egg white mushroom-onion-cheese omelet for a measly 130 calories.
Wow
is right! Mom was thrilled. Yesterday's breakfast, and I'm not sure I mentioned this in yesterday's post, but it was steel cut oats and fruit. Breakfast is so critical along this road, it really is important stuff. The metabolism needs it's wake up call everyday, like we're barking orders for it to start moving---and
here's some fuel to get you going!

I met with Melissa Walden today so we could recalculate my body fat percentage. It's still really good, surprisingly good in fact. 16.5%. That's thrilling to me. I can remember it being well over 50% at one time in my life. 16.5%...
do you realize what that means?
And Melissa assured me the number was accurate. Just so you know---I had to take my shirt off in front of her---and even had to pull down my workout pants. We wanted an accurate measurement---so I had to swallow my insecurities and do it. If you only knew the mental hangup I have about taking my shirt off in front of anyone other than Irene. It's been a lifelong thing---oh, I've written about it a few times in these pages. Anyway---
can you tell I'm excited?
You know what this means? It means that 45.21 pounds of fat is all that remains on my body. The rest is muscle, loose skin, and bones. And not a lot of muscle. I'll lose more weight for sure---but hitting 230 is something that may only be achieved after I have skin removal surgery.
I'm prepping my mind to accept this body fat situation. What a wonderful
"problem"
to have, right? I know that weight training will gradually add weight in the form of muscle---and that's good. We'll see how this all progresses. I do know one thing---my before and after pictures are going to absolutely rock.
Speaking of loose skin---another blogger gave me the news, and I confirmed by calling the burn center, they do not accept skin donations any longer. It's been years since they allowed that practice. It became cost prohibitive. It's much cheaper to harvest skin from people/donors no longer living. I will pursue the insurance route by presenting the argument that excessive loose skin could cause serious infection. I'm going to need some doctors help with that argument. Regardless, I will have it done, one way or another---
it will happen.

Today marks one week without cigarettes!! I'm thrilled at how the cravings are becoming less frequent and less intense. I still get them, even though my body should be over the nicotine addiction—but they pass quickly. It's just too important to stay strong and not give into my desire to light up. Everyday that passes, I'm looking forward to it becoming less and less of a struggle and more and more natural. Last night at karaoke I was surrounded by people smoking and it didn't bother me. I also noticed a guy chewing a straw. I don't know for sure, but I bet he's going through the same thing!
My workout tonight was driven and precisely what I needed. I mentioned to Melissa about how my tail bone hurts during one particular exercise and she suggested a pillow or workout pad. Wow...I can't believe I didn't figure that one out before now. A pillow made all the difference. I went through the recommended movements from Melissa for strength training and added two miles on the treadmill for cardio. The strength training alone elevates my heart rate. I can't wait to start seeing results in the form of muscles. I want guns!! And I'm going to get them by golly!
I better drop in bed. I still need to make sure I'm getting enough sleep. Thank you for reading. I hope you check out Amber's blog too. Goodnight and...
Good Choices,
Sean
My daughters and me before
Amber. Not sure the date of this photo. So beautiful!
Courtney. Beautiful. Again, not sure when this was taken. Beauty from their momma for sure!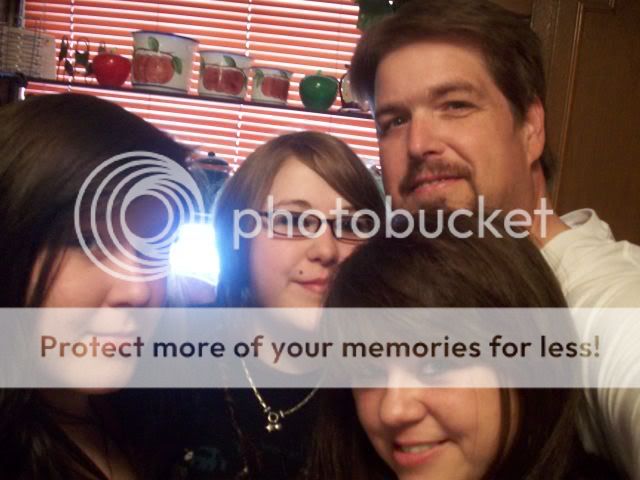 The four of us. Several months ago, or at least a few. We need to update this one!